---
BARN TOWN IGLOO FARM
When life gives you unprecedented times, have an Igloo Party on our Igloo Farm! In order to maximize our footprint during the pandemic this Winter, we have created the Barn Town Igloo Farm on our patio! We wanted to bring you something fun, different, and safe, so we have 4 private igloos on our patio for your enjoyment! Igloos can be reserved via rental, and complete with comfy seating for up to eight people, a heater that takes the edge off of the Iowa Winter, cabin-feel décor, plus a medical-grade air purifier.
- Each igloo seats up to eight guests. Have more than eight people? Rent another igloo. Have fewer than eight people? Invite more friends!
- Every igloo experience includes a choice of one of four glasses for your party to take home and enjoy, hot chocolate, plus other additional upgrades of your choice.
- An exclusive
food menu
will be offered to all igloo parties. Both food and
drink options
are meant to add to the experience, and perfect for casual, social get-togethers.
- When you book your igloo, you will select food that will be waiting in your igloo when you arrive. More food can be added at the beginning of your party.
- You'll have two hours to enjoy your private igloo. Please arrive at least 10 minutes early to check-in to ensure you get your full 2 hours!
- We reserve the right to end service for those parties that do not follow our rules.
- Have questions? Please scroll down and read the frequently asked questions and information below.
---
---
GENERAL IGLOO PARTY QUESTIONS
WHAT DOES THE $200 FOOD AND BEVERAGE MINIMUM ENTAIL?
Every igloo experience includes a private igloo for up to 8 guests for 2 hours, hot chocolate, your choice of 4 food options from our exclusive Igloo menu, dessert platter, and a glass for each person to take home. You have an additional $100 to spend on any of the food and beverage offered for the igloos in order to hit your minimum. That $200 breaks down to just $25 per person when split between 8. Tax and 20% service fee will be added to all final bills.
ARE THE IGLOOS CLEANED IN BETWEEN EACH USE?
Yes! Every igloo contains a medical grade air purifier inside. We will clean, sanitize, disinfect, and air out each Igloo in between each use.
COVID-19 PRECAUTIONS
If you have a reservation for an igloo, and you or anyone of your party members have Covid-19 or are experiencing Covid-19 like symptoms, we ask that you do the right thing and let us know so we can cancel your reservation. We will happily refund you and do our best to find a date to reschedule your party to an open reservation when you and your party members are healthy.
WHAT GLASSWARE DO I GET TO CHOOSE FROM?
Each person in your party will receive 1 glass of their choice. 1 glass per person attending the Igloo Party:
- 16oz BlueGreen Rustic Mug
- 16oz Tall-Boy Can Glass
- 10oz Pub Glass
- 16oz Red Camper Mug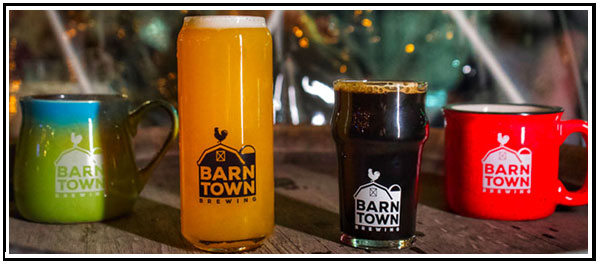 HOW LONG DOES AN IGLOO RENTAL LAST FOR?
Each rental lasts 2 hours. We ask that your party arrive 10 minutes early to check-in prior to your reserved time. This will give you the full amount of time in your igloo. We prefer that your entire party arrive before seating your igloo. This allows us to seat you all at once and limit the number of times the door to your igloo will need to be opened, thus keeping you and the igloo warmer for longer.
WHAT HAPPENS IF OUR PARTY SHOWS UP LATE?
If your party shows up late for your reservation, we cannot extend the length of your rental. The igloos are in high demand and are generally booked back-to-back to allow as many guests to enjoy them as possible. As an example, if you show up 30 minutes late, your rental would be for 1 hour and 30 minutes instead of 2 hours. Partial refunds will NOT be issued for parties arriving late.
HOW MANY PEOPLE CAN FIT IN EACH IGLOO?
Each igloo seats up to 8 guests. It is soft patio, lounge-style seating, and there is a coffee table provided for guests to sit around. It is set up for sitting together, sharing food and drink, spending time with each other, away from everyone in your own little bubble….err, igloo!
WHAT IF WE ONLY HAVE 4 PEOPLE, DO WE PAY HALF-PRICE?
Sorry, every igloo rental and package is the same price regardless of the size of your party. If your party is smaller than 8, we'd suggest inviting more friends.
ARE THERE AGE LIMITS FOR THE IGLOOS?
There is no age limit.
IS SMOKING ALLOWED IN THE IGLOOS?
No. Any guests found smoking, vaping, or the like will be asked to leave immediately along with their entire party, with no refund granted. Open flames of any kind are not allowed on the patio whatsoever.
ARE THE IGLOOS HEATED? HOW SHOULD I DRESS?
They are "heated," but you will be sitting on an outdoor patio, in the Winter months in Iowa, separated from the cold winter by a thin "igloo" membrane. Each igloo includes a small, electric heater that will take the edge off of the chill, but please come dressed for a winter activity. It may take a bit of time after the door is opened to reheat your igloo. The igloos also include small windows for ventilation if desired. Please come dressed in hats, gloves, and a few layers that you can adjust to your own individual comfort level. Feel free to bring a blanket too, if you'd like. Any heater moved during your stay may result in a charge for damage to the shell or frame. If you require assistance with your heating unit, please ask a Barn Town employee for assistance.
WILL THE IGLOOS EVER CLOSE FOR INCLEMENT WEATHER?
In the case of extreme cold, blizzard, or dangerous icy conditions, we may need to cancel reservations to ensure safety and your comfort level. In these cases, you will be notified via email about an option to reschedule your booking or receive a complete refund. We will make every attempt to make the cancellations well in advance of your reserved time but reserve the right to make cancellations in the case of emergency weather conditions at any time.
DO I HAVE TO WEAR A MASK?
All members of your party can take off your masks any time inside of the Igloo. All members of your party must wear a mask at all times when not in the igloo. This means while you're on our patio, or inside our building, you must wear a mask at all times.
ARE PETS ALLOWED IN THE IGLOOS?
Sorry, you'll need to leave your furry friends at home. Pets are not allowed in the igloos.
WHAT HAPPENS IF WE DAMAGE THE IGLOO?
The igloos are strong, engineered structures that are designed to withstand 50+ mph winds and 90+ pounds of static snow load. That being said, they are constructed of lightweight materials that can be damaged by impact, heat, or puncture. We ask that you take precaution when moving in the igloos and refrain from touching the walls or grabbing the frame. The igloos are inspected and cleaned after every party, and a fee may be added should any evidence of damage or stolen items are noticed after your visit.
CAN I BRING MY OWN MUSIC?
Sorry, no. For the enjoyment of the guests in neighboring igloos, no outside music sources are allowed.
WHAT IS THE RESTROOM SITUATION?
All igloos are welcome to use the indoor restrooms inside of the taproom at Barn Town. We'd recommend using the facilities before getting seated in your igloo to avoid unnecessary opening of your door.
WHAT IS THERE TO DO INSIDE THE IGLOOS?
With the igloos having a 12-foot diameter, your party should be composed of the type of people who aren't too weirded out inside a full elevator. There will be a lot of sitting around in a circle watching other people eat and drink, so some pleasant conversation would be a great next step. Stay off of your phones, and enjoy each other's company! You could also bring a game to play, but make sure it's a game that you don't need table space for, or standing and moving around for.
FOOD & DRINK QUESTIONS
WHAT'S INCLUDED?
Every igloo experience includes a private igloo for up to 8 guests for 2 hours. The first $100 of your $200 minimum spend includes: your choice of 4 food options from our exclusive Igloo menu, dessert platter, hot chocolate, and a glass for each person to take home. The additional $100 can be spent on food and beverages of your choice to hit the remainder of your minimum spend.
CAN I BRING OUTSIDE FOOD AND DRINK?
No outside food, desserts, or beverage will be allowed in the igloos.
WILL THERE BE SERVERS THAT WE CAN ORDER MORE FOOD AND DRINK FROM?
Absolutely! An igloo server will stop by periodically to see if you would like to add any anything to your tab.
CAN I ORDER ITEMS FROM THE REGULAR BARN TOWN MENU?
No. The food and beverage options for the igloos were designed specifically to be shared amongst a small group, in cozy quarters, on an outdoor patio, in Winter in Iowa. Because there is no dining table, all food items are finger-friendly and served on platters.
HOW LONG DO WE HAVE TO FINISH OUR FOOD AND DRINKS?
Each igloo rental is for 2 hours within a pre-determined time block, giving you ample time to finish any food or drink you ordered in advance. All food and beverage that is pre-ordered will be ready for you when arriving at your igloo. You may order more add-on food during your stay, but additional orders should be made in the first 20 minutes of your visit to give you ample time to finish your items. In the unlikely case that you do not finish in your 2-hour stay, we will do our best to accommodate your group inside Barn Town by moving your food and drink indoors, depending on our capacity at that time. We strongly recommend planning ahead and finishing your food and drink inside your igloo, and of course, you are welcome to visit our bar or stay for dinner after your igloo visit as well.
CAN I UPGRADE OR CHANGE MY MIND ON FOOD OR DRINK SELECTIONS WHEN MY GROUP ARRIVES?
We cannot remove any of the food or drink items you selected when booking online; however, it is possible to add on additional food and beverage packages when you arrive. For food, we recommend deciding if you want more food within the first 20 minutes or so of your stay. Due to the availability of some items (mostly food), we may not be able to fulfill your request. The best way to guarantee your food and beverage is to order them when completing your initial booking.
CAN I GET 4-PACKS OR CROWLERS AS PART OF MY MINIMUM SPEND?
4-Packs of cans, Crowlers, Gift Cards, or Merchandise cannot be used as part of the $200 minimum. All items must be purchased and consumed on premise. However, we will provide you with to-go boxes for any food not finished.
RESERVATION & PAYMENT QUESTIONS
IS IT POSSIBLE TO CANCEL MY RESERVATION?
Yes, you may cancel your reservation for a full refund at any time before 48 hours of your reservation. Cancellations with less than 48 hours' notice (or no-shows) will be charged $50, no exceptions. To request a cancellation, email at barntownigloofarm@gmail.com making sure to include the name and date/time of the reservation from your booking.
CAN I CHANGE MY RESERVATION DATE OR TIME?
Yes, as long as it is 48 hours before your reservation start time and we have additional booking slots open, you may change your reservation. If we do not have additional times available, you may request a full refund if it is 48 hours before the start of your igloo reservation.
I MADE A RESERVATION ONLINE, WHEN AND WHERE DO I PAY FOR THE REST OF MY BILL?
All balances, plus tax and 20% service fee, will be taken at the end of the 2-hour timeframe before leaving your igloo. All payments will be handled by your igloo server.
CAN WE SPLIT THE COST ON MULTIPLE CARDS?
For the simple fact that splitting up a bill multiple ways will inevitably take time away from you and your party enjoying your time in your igloo, so we ask that all parties are under one bill. Remember, there's always Venmo and PayPal for that one friend who always tries to get out of paying you back!
KID RULES
CAN MY BABY SIT ON MY LAP?
Up to two children (under the age of 2 years old) may sit on an adult's lap in addition to the 8 occupied seats.
CAN I USE A HIGH CHAIR?
Due to space constraints, a high chair can be substituted for a chair but cannot be an additional chair in the igloo.
CAN I BRING IN A CAR SEAT?
Due to space constraints, an infant car seat can be substituted for a chair, but cannot be an additional chair in the igloo.
CAN MY KIDS BE UP AND ABOUT INSIDE THE IGLOO?
All members of the party must be seated for the duration of the reservation.
CAN MY KIDS PLAY AROUND INSIDE THE IGLOO?
Sorry, no. Kids are not allowed to play, climb or run around inside of the igloo. They must remain seated through the duration of the party.
CAN MY KIDS PLAY OUTSIDE OF THE IGLOO?
Kids are not allowed to play outside of the igloos on the patio or the surrounding area. There are several jungle gyms and city parks in the surrounding area for you and your family to enjoy when not at our igloo farm.
CAN I ORDER OFF THE KID'S MENU?
Our kid's menu is not available in the Igloos. Only items from the exclusive Igloo menu may be ordered.
EXCESSIVE CLEAN FEE
Parents are responsible for cleaning up after their little ones (we're looking at you, goldfish & saltine crackers!). Excessive messes are subject to a $50 cleaning fee. Don't make us do it, Todd & Barbara!
---
---